LANE COUNTY SHERIFFS K9 UNIT

Deputy Olson and his K9 Zeto joined the canine program in the fall of 2007. Zeto is a German Shepherd/Belgian Malinois (Royal Dutch Police Dog), who received his KNPV training in the Netherlands. Zeto completed his training with honors, and obtained a lifetime certification as a Police Dog from the Netherlands. Zeto has now retired.

Deputy Lane and his K9 Rocky joined the program in June 2009 after the retirement of Axel, who started the program in 2002. Rocky is a KNPV trained Belgian Malinois. Rocky is trained in police protection and in the detection of explosives. Before coming to work at the Sheriff's Office, Rocky was deployed in Iraq with a Navy SEAL team.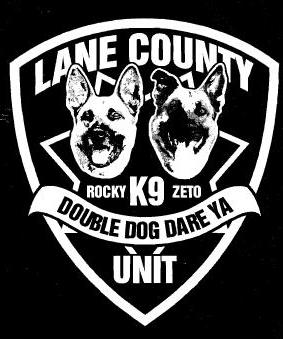 Pet Paws Dog Wash & Nutrition Center
541-935-5605


LANE COUNTY SHERIFFS K9 UNIT
Up-Date: Rocky has moved to Los Angeles to a new K-9 unit and Zeto retired in early 2013.
​Pet Paws Dog Wash & Nutrition Center continues to support the two new K-9's that are now on the job with pet food & supplements.